Details

Created: 22 April 2016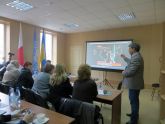 On 15 April 2016, Kramatorsk, Donetsk region, hosted the training for the representatives of city council, the associations of co-owners of multi-apartment buildings (ACMBs) and initiative groups from the cities of Dobropillya, Dymytrov and Artemivsk planning to establish ACMBs.
The training was focused on analysis of legal framework for ACMB activities as well as on energy efficiency in the apartment blocks (energy audit and modernization). It was facilitated by UNDP/CBA expert Leonid Tulovsky.
The participants reviewed the Law of Ukraine on the Associations of co-owners of multi-apartment buildings that regulates ACMB activities, property rights, duties and relations between the co-owners, functions of the ACMB's management bodies. Leonid Tulovsky reviewed all these issues, and also shared practical tips.
This kind of information is really helpful for ACMB members and such workshops helps them to become effective apartment owners. Introduction of the methods of effective management and services at multi-apartment buildings is one of priority tasks for the CBA project from the beginning of the third phase of the project.
Leonid Tulovsky also gave some useful recommendations regarding the practical nuances, in particular, calculation of number of staff responsible for the management of building and the adjacent territory; terms of reference and workload, recruitment schemes; compiling the budget and calculating expenses for the maintenance of common property; measures to improve energy efficiency and other aspects of ACMB activities.
Oksana Sokolovska from Artemivsk city thanks Leonid Tulovsky for comprehensive analysis of challenges and practical issues that ACMBs face. "This training is really valuable for all of us and we appreciate the knowledge and reference materials that we received at the training."