Details

Created: 01 July 2016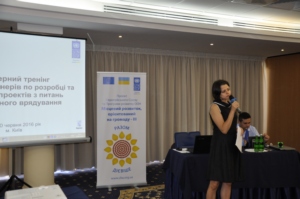 On 29-30 June 2016 with a support of the joint EU/UNDP Project "Community Based Approach to Local Development" a cluster training for the partner cities on innovative governance project implementation took place in Kyiv.
During the two-day training representatives of 22 cities, who's initiatives have already been approved in terms of the "Smart Cities" component, learnt about the specifics of the implementation of micro-projects in innovative governance, about terms and procedures of the CBA Project implementation, and about the experience of other cities who have already installed electronic governance.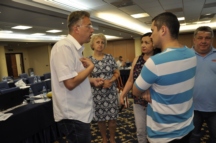 In terms of the training coordinator of the initiative "Kyiv Smart City" Yuriy Nazarov shared experience of introducing electronic technologies for public services in Kyiv. Partner cities' representatives learnt about introduction of innovative technologies in Kyiv. Representatives of the Foundation of Innovations and Development told about smart solutions for electronic governance.
During the second day of the cluster training representatives of the CBA Project – Community Development Specialist Oleksandr Ryabiy, Innovative Governance Coordinator Tetiana Kudina, CBA Project engineers Oleg Baranetsky and Larysa Batchenko – told about terms and regulations of the innovative governance micro-projects' implementation.
As of today, the joint EU/UNDP Project CBA approved micro-projects of 22 partner cities. Such micro-projects will enhance improvement of public services provision in small cities using innovative technologies. These measures will help to establish positive dialogue between authorities and communities, they will promote partnership between local self-government bodies and non-government organizations, and this will benefit the transparency of the local self-governance to raise people' trust to the authorities.