Details

Created: 20 July 2016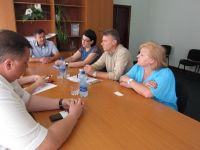 Economic development of rural areas is one of the priorities of the joint EU/UNDP Project "Community Based Approach to Local Development" (CBA). In terms of the component on12 - 15 July Community Development Specialist of CBA Project Elena Rudich and project engineer Mykola Kolomiets visited Sumy region to monitor cooperatives, created with the support of the project. During these three days, representatives of the project visited five districts of the region to meet with members of community organizations, rayon authorities, rayon coordinators.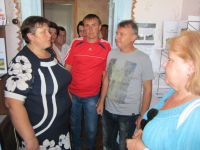 Elena Rudich and Mykola Kolomiets also visited cooperatives and saw how communities implement their initiatives in practice. The CBA management visited ASC "Nedryhayliv" (Str. Nedryhayliv) and ASC "Hospodar-2015" (s.Horuzhivka) in Nedryhaylivsky area, specialized in land cultivation and crop. In Lypovodolynskyi rayon project Project representatives visited community organisations "Lypivka" in the village Lypova Dolyna and the cpmmunity organisation "Hrun" in the village Pidstavky, which have implemented microprojects using innovative energy saving measures in social objects (in the local school and in the kindergarten). In Lebedinsky and Okhtyrsky rayons community organisations "Chervlene-15" (village Chervlene) and community orgaisations "Komyshanska" (s.Komyshi) presented results of the micro-projects in energy efficiency. At the end of the working visit Project representatives visited ASC "Dobrobut Shevchenkove-2015" (village Shevchenkove, Glukhivski rayon) where theysaw results of the ASC work and discussed ways of further development and cooperation with amalgamated community in Sumy region.
During the visit, representatives of the project discussed with communities ways of their further development and cooperation with local authorities in the context of decentralization reform.