Details

Created: 05 August 2016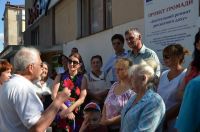 On 4 August 2016 the Deputy Director of UNDP Ukraine Ms. Blerta Cela visited Lviv oblast to learn more about the joint EU/UNDP Community Based Approach to Local Development (CBA) Projects' activities. During the working visit Ms. Cela visited Zolochiv city to see how local citizens built up trustful relations with local authorities to jointly address the issues they are facing. With the CBA Project support local people developed Associations of Multi-apartment Buildings (ACMB) and did the renovations of their houses. During the trip Ms. Cela visited one of the ACMBs "Veselka" to see the renovated multi-apartment building and to communicate with local people and city authorities. The ACMB "Veselka" was created by the co-owners of a 5-store building with 60 flats. Building dwellers developed a microproject to replace the roof of the building.
The total cost of the microproject was UAH 524,930 (20,980 USD), out of which the city budget provided UAH 130,983, ACMB members provided UAH 130,983, and CBA Project provided UAH 262,964.
Thanks to this microproject 168 people benefited from its implementation.