Details

Created: 22 September 2016
Background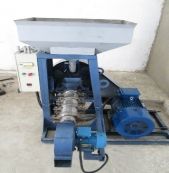 Agricultural Ternopil region selected as one of the piloted for starting and approbation of cooperative development approach. During CBA2 in the region founded two agricultural services cooperatives ASC "Zelena Krinitsa" with grain processing services in Koshlyaki village and ASC "Yagidniy krai" with freezer storage facilities for better berries marketing and fuel briquettes production in Losyatin village. Of course, during implementation of these pilot cooperative initiatives it was many technical, organizational and autocratic problems, which resolved only by joined efforts by local communities, authorities and CBA. For instance many problems connected with legalization of former shared collective ("kholkhoz") property, which sometimes distributed without proper documentation, connection of equipment to electrical grid where big monopolies are dictating their rules, proper installation and functioning of equipment, and raising money from future cooperative members.
Finally both piloted cooperative projects were so useful for local communities and supported by people and regional authorities that Ternopil region without hesitation selected rural component and cooperative development for the next phase of cooperation with CBA.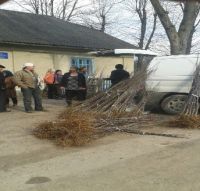 In 2015 under support of CBA3 framework in Oblast founded four new agricultural services cooperatives ASCs:
- ASC "Starii mlyn" in village Tseniv, Kozivskii rayon – main services are grain processing for flour and grain. Projects costs UAH 775 000;
- ASC "Dary laniv" in village Rudka, Kremenetskii rayon – with grain processing and extrusion services for feeds. Projects costs UAH 775 000;
- ASC "Schedrii krai" in Starii Pochaiv village, Kremenetskii rayon – drying fruits and vegetables services. Projects costs UAH 753 000;
- ASC "Krinichky" in village Kotiv, Berezhanskii rayon – multifunctional cooperative with fuel briquettes production, production of foundation for beekeepers and soil cultivation services. Project costs UAH 687 000.
All new cooperatives granted CBA support for machinery and equipment in 2015 and 2016.
In all cooperatives created technical-information centers for providing advisory services and dissemination experience and best practices to coop members. Premises for centers provided by local authorities. CBA provided furniture and IT equipment.
Development needs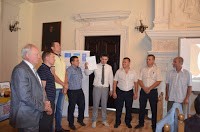 After 2 years of cooperative development, ASCs defined a lot of common obstacles and opportunities from other side. Of course, the old (CBA2) coops shared their vision with newcomers (CBA3).
There are many common problems for all agricultural cooperatives. For instance rapidly changeable Ukrainian tax and accountancy legislation. For instance in 2015 local tax authorities in different oblasts and even rayons interpreted tax legislation differently, and it costs great efforts to obtain non-profit status for new agricultural services cooperatives. Accountancy is other serious pain for cooperatives: constant changes in regulation, reporting form one side and lack of professional accountants in rural areas from the other side. Other point of common interests – common marketing and promotion of cooperative products and purchasing inputs. For instance for every single cooperative creation and development own professional web site, where will be possible to promote products, is costly and difficult process. The same is participation in agricultural fairs, exhibitions, buying agricultural inputs, etc.
CBA approach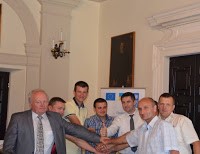 Gradually CBA supported ASCs in Ternopil region start to understand the advantages of joined efforts. The seed was seeded into fertile ground.
Additional impulse to association provided by CBA during organization of study tours and special cluster training where ASC leaders are freely discuss problems and opportunities with CBA and each other.
So, it does not look unusual that foundation decision about Ternopil cooperative Association creation made during CBA cluster training event – Seminar "Agricultural service cooperatives - prospects of development" (for Ternopilska, Volunsky, Sumska and Khmelnytsky oblasts) held July 4-6, 2016
During seminar session, six agricultural services cooperatives ASC "Zelena Krinitsa", ASC "Yagidniy krai", ASC "Starii mlyn", ASC "Dary laniv", ASC "Schedrii krai", and ASC "Krinichky", which founded under support of joint EU/UNDP "Community based approach to Local development project" signed declaration about foundation of the Cooperative Union "Association of agricultural services cooperatives of Ternopilchyna"
The main directions s of activity of the Association are:
- Representation and promotion of activity of ASCs – members of Association
- Promote high ethical standards and image of members
- Support cooperative development in the region
- Participate in regional and national events
- Found best practices and experience and share among members
- Promote members in electronic media, create and support web site with detail information about services provided by ASC members
- Provide trainings, field days, workshops, etc.
The association is fully open, transparent and democratic. The founders decided that Chairmanship will rotate on year basis by every ASC leader.
Future
Of course the cooperative association in Ternopol region is very young and making only their first steps. The value of this association that is real initiative from grassroots level, from ordinary ASC members. People knows many artificially created associations, forums, parties which un-useful for its ordinary members.
Ongoing Association development tasks are web site development, selecting the proper legal form, inviting more members. CBA is continue to be a reliable partner and supporting Association development by advisory and financial support for web site development.
Leaders of ASCs in Ternopil are mainly young but experienced people, some of them gained good practical farming experience in Poland and other countries, they are strongly need new knowledge and practices and want to implement it in their own farming practice to make better life in villages.
Hope the Association will be a major driver on the way to better future.
Prepared by Oleksandr Radionov, Agri-Business Specialist, CBA in cooperation with Ternopil OIU, September 2016