Details

Created: 27 October 2016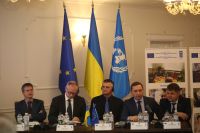 How can local communities reach sustainable development through decentralization process is a topic of today's discussion at the conference "Capable Communities as a Base for Regional Development" in Ternopil. For the event the joint EU/UNDP "Community Based Approach to Local Development" gathered all parties of the decentralization process – state authorities, donors, and amalgamated territorial communities.
During the opening Benedikt Hermann Policy officer, Support Group to Ukraine, Delegation of the EU to Ukraine stressed that «the most important asset that as hromadas you have it's honest , transparent and fast administration. You did significant reforms for now. And you should think further on this stage what can you as ATC suggest to the investors".
Wellcoming participants, Marcus Brand, Democratic Governance Advisor underlined "We are all now trying to support decentralization reform together with other donors. Governance reform, economic development, social equality comes now from the self-organization of communities. Of course, central government plays a very important role. But the most important is the community' role".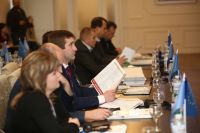 Viktor Ovcharuk, Head of Ternopil Oblast Council also mentioned that "the process of decentralizationis a personal responsibility of everyone. Ternopil region is one of the leading oblasts in this area and it is one of the reasons why it was selected as hosting region for the conference. You can already feel the difference from the implementation of the reform. We should support communities in this process, create favourable environment for their further development".
Deputy Head of Ternopil Oblast State Administration stressed that "For us it is symbolic that the conference is organized in Ternopil as we are one of the leading regions in the process of decentralization. People want changes, improvement of living conditions, they want dynamic development and move forward".
Representatives of seven regions of Ukraine shared their experience of decentralization reform implementation. Also during the conference a Handbook in Decentralization with practical exercises and cases of decentralization implementation was presented.